Welcome to
Young's Photo Gallery


James W. Young, Professional Photographer

Image of the Week Archives


January 22, 2012

PATRICIA "PATSY" EDSON TOMBAUGH
c
November 7, 1912 - January 12, 2012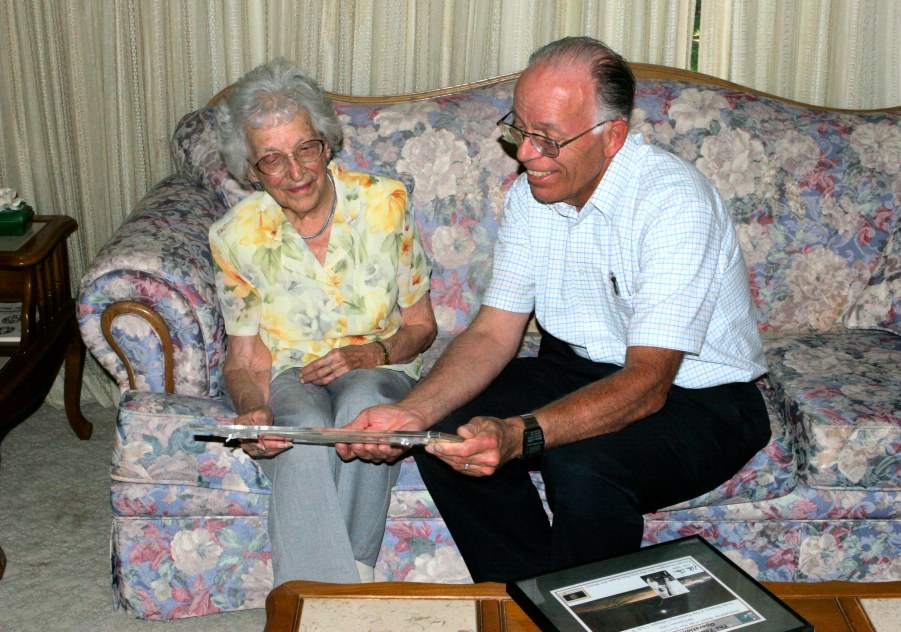 The wife of the late Clyde Tombaugh (the discoverer of the planet Pluto), Patsy, is seen here during
a visit the author had with her in May, 2009. Patricia is the sister of James B. Edson. In the late
1930s, James put together several Caltech grad students and formed the 'Planet Group' that made
extensive observations of both Venus and Mars from Table Mountain (the author worked there from
1962 till 2009 as resident astronomer). In this photograph, the author and Patsy are viewing some
of Clyde's many mementos, reminiscing over work both Clyde and James were involved in at Lowell
Observatory for the many years up to 1961. The connections of astronomy related circumstances
along with family, were not fully appreciated until the author uncovered these science relationships
when working on the history of Table Mountain. The above image was taken by Alden Tombaugh
on May 10, 2009 in Mrs. Tombaugh's home in Las Cruces.
I want to thank Patsy's two children,
Annette and Alden,
for helping me set up this 2009 meeting which allowed me the opportunity to
discuss her husband's and brother's astronomy related careers. See here for more historical
information about Table Mountain.


I want to extend my condolences to Patsy's children and their extended familes for their loss.

Patricia Tombaugh was a community leader, educator, artist, and enthusiastic supporter of her
astronomy pioneer husband, Clyde. Known for her keen sense of humor, Patsy once said that
"Pluto was Clyde's first love": she had to compete with planets, comets, and other assorted
heavenly bodies to attract his attention. Read here for a full bio of their lives together.

Services for Patricia will be held in Las Cruces, New Mexico on February 12, 2012.

Gallery of Images Specialties
e-mail astroyoung@verizon.net
Return to Home Page